CLOCKSS Triggers Journal of Pharmacy Teaching
Print ISSN: 1044-0054, eISSN: 1540-7365. Triggered: May 2011.
Originally published by Informa Healthcare between 1990-2008, the Journal of Pharmacy Teaching produced 14 volumes highlighting new methods in pharmacy teaching for the professional pharmacology community. Under Taylor and Francis, the journal ceased publication in 2008.
In May 2011, CLOCKSS triggered the Journal of Pharmacy Teaching to the public. It is now available for free to everyone.
The Trigger Process
After receiving Journal of Pharmacy Teaching content in the form of XML, PDF, and other digital formats from Taylor and Francis, CLOCKSS created a representation of each volume in HTML by transforming the XML data and adding the PDFs that comprised the volume. Volumes 1-14 are now available from CLOCKSS host institutions, EDINA at University of Edinburgh, and Stanford University.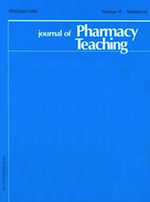 Free Public Access to Journal of Pharmacy Teaching
EDINA at University of Edinburgh: