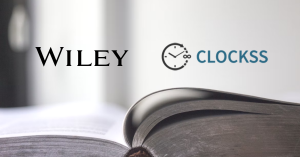 CLOCKSS has expanded its partnership with global research and education leader Wiley. Together, CLOCKSS and Wiley will ensure the long-term preservation of the publisher's extensive program of scholarly and reference books. More than 22,000 book titles that are a core part of the scholarly record will now be kept safe for posterity through inclusion in the CLOCKSS digital archive program.
"Digital preservation is an important safeguard for scholarly communications. Adding our reference book portfolio into the CLOCKSS archive is another step toward ensuring access to our content well into the future," said Amanda Miller, Group Vice President of the Academic Publishing Group at Wiley.
Alicia Wise from CLOCKSS said, "Wiley was a founding member of the CLOCKSS community, and has long been active in showing its commitment to the long-term preservation of scholarship. I am delighted that these high quality books have been entrusted to the CLOCKSS archive. Our service is a partnership of leading academic libraries and scholarly publishers and protects digital content from economic, environmental, political, and technological risks over the very long term."
About CLOCKSS: A collaboration between the world's leading research libraries and academic publishers, CLOCKSS is a financially secure, independent non-profit 501(c)(3) organization governed by its Board of libraries and publishers. Our mission is to ensure the long-term survival of digital scholarly publications to benefit the greater global research community. https://www.clockss.org.
About Wiley: Wiley is a global leader in research and education, unlocking human potential by enabling discovery, powering education, and shaping workforces. For over 200 years, Wiley has fueled the world's knowledge ecosystem. Today, our high-impact content, platforms, and services help researchers, learners, institutions, and corporations achieve their goals in an ever-changing world. Visit us at Wiley.com, Like us on Facebook and Follow us on Twitter and LinkedIn.
Contact: For further information or to arrange interviews, please contact Alicia Wise, Executive Director of CLOCKSS, via email at awise@clockss.org.