We would LOVE to receive an email like this every day:
This is indeed wonderful news. The best! You have made my day!  Thank you very much for the permission to republish my poem from Arch Fam Med. I also very much appreciate your changing the licenses triggered by CLOCKSS to this new designation. I think this is a great idea!  It is so important that all the work in this AMA journal be preserved digitally. It is equally important that authors and readers have access to work published in the past. Having access extends to the granting of permission to republish (in book form) as well. I thank you again for all your work on this permission, and for all your work on behalf of other authors and authorship generally. (I have written scholarship on authorship, specifically in the sciences, and will be very interested in learning more about this new development.) I have to say that I am honored that my request played a part in triggering a reconsideration of the entire licensing process for Arch Fam Med, just as I was honored to have had the poem originally peer reviewed and published by this great AMA journal.
Professor Steven Katz is Pearce Professor Emeritus of Professional Communication, and Professor Emeritus of English, at Clemson University. Via Kathleen Angione Anckner, a freelance editor and his research assistant, he reached out to CLOCKSS in July 2023. He requested our permission to reuse his short poem, "Out of Hospital" with minor revisions in an upcoming creative scholarly book, Plato's Nightmare, to be published in 2024 by Parlor Press, an independent academic publisher. The poem was originally published in Archives of Family Medicine by the American Medical Association in the 1990s. Unfortunately, the journal had ceased publication, but happily AMA had archived it and CLOCKSS makes this content available to scholars.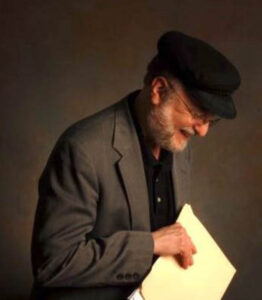 It's terrific
Both CLOCKSS and the American Medical Association were delighted for Professor Katz to re-use his poem. It's terrific: it tells the story of a person journeying from healing to health, and you can read it here:
Initially, CLOCKSS and the American Medical Association were both surprised to be approached with a request to provide copyright permission. The reason for this is that, when triggered, the journal was made available under a CC-BY-NC-ND license; however, the proposed re-use was commercial, and so not in alignment with the NC part of that license.
After a number of emails were exchanged between Ms. Anacker and Alicia Wise, Executive Director of CLOCKSS, the attorney, AMA Board of Directors, the author, and others, the American Medical Association confirmed in writing that they would be delighted for Professor Katz to include the poem in his new book.
But in addition, AMA was very happy for CLOCKSS to re-license the entire journal under a CC-BY license. Because of this change, the journal and its contents, as well as a second journal in the digital archives, JAMA francais, are now clearly available and free to authors and readers in perpetuity!